We've got an exclusive Kaladesh Preview card as well as two interviews with Mark Rosewater and Gavin Verhey, recorded from PAX West 2016!
Our Kaladesh Preview Card: Padeem, Consul of Innovation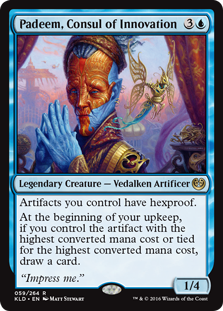 Where to find Mark and Gavin:
@Maro254
@GavinVerhey
What We Mentioned:
Josh's PAX Vlog
Josh's Iceland Drone Video
We're On YouTube!
All of our video podcasts are now online. Get notifications when we post a new video by subscribing to us. Click Here.
Huge thanks to Geoffrey Palmer for providing some of his amazing Living Cards animations for our videos. Follow him here:
@LivingCardsMTG
LivingCardsMTG on YouTube
Follow us on Twitter!
@CommandCast
@jfwong
@JoshLeeKwai
Email us:
CommandCast@RocketJump.com
Check out our sister podcast – The Masters of Modern:
http://www.rocketjump.com/podcasts#the-masters-of-modern